Mitsubishi Electric Jet Towel is a fast hand dryer.
It have a high performance and easy to use in a slim line package.
We had a hands on for this slim model.
This Jet Towel is now used in most of the big shopping malls and Genting is also using this model of hand dryer.
Now, they have a new series coming up which is Jet Towel Mini.
It's a squared-shaped design saves space while ensuring a spacious hand-drying zone.
This is hygienic, comfortable drying action suitable for all ages.
You can now install this in your home :)
The plus point to use this Jet Towel Mini are
Compact Yet Spacious and Easy to use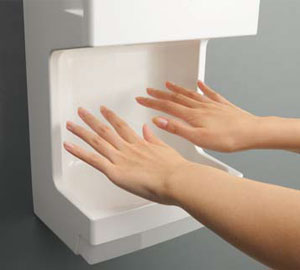 Hygienic touch-free operations enables drying hands up as far as the wrists without touching the units. Thus the range sensor and blue LED indicator adopted for comfortable drying.
Second, it's easy to clean and hygienic.
With this integrated unit it ensures simple maintenance and they have independent air-duct system to ensure that only fresh air, void of any residual water droplets, is blown over the hands.
Exceptional Low-noise Operation and Energy Savings
High speed drying and low-noise operation have been simultaneously achieved using and advanced wave-shaped nozzle and innovative flow control technology.
These are also other factors that this Jet Towel have.
Why choose Jet Towel Mini?
It also have a low energy consumption and is paperless
Jet Towel Series fits anywhere thus is no wastepaper, cost reduction and easy maintenance.
It can be used is restaurant restrooms, office restrooms, hospital and nursing home restrooms, children's restroom at commercial facilities and more!
For more information please visit,